Statements about; Credits; FAQs:
DIVE TABLES homepage


WELCOME: my name is ALBI.
Due to multinational friendships, this welcome message and a part of the technical infos are in english. However the diving course stuff and the course manuals on these pages are in plain german.
What do we have here?
Well, first of all, a couple of UW photographies and a handful of diving manuals ...
everything started around 1991 with my little virtual dive computer museum
and with information & dates concerning our PADI / SSI specialty courses for:
Dive Computer, Dive Tables, Decompression and technical diving
and manuals for these things
and purely technical information concerning Nitrox, Trimix and the DRAEGER DOLPHIN ®
as well quite nice: our dive simulation and deco learning tool: DIVE
which comes with a documentation, as well for free:you could learn a lot how
dive computers work internally and why a dive table looks the way it looks
During the last 40 years or so I bought tons of papers (for a lot of dollars ...)
some of them with the copyrights, and that's why i leave them here for a free download!
WHY?
well, in the labs of NEDU, NMRI, UHMS (*) we have day by day
new technologies and new diving procedures!
And it takes quite a long time, until these things go into the traditional diving education.
Eg.: deep stops, Nitrox and ABM (Arterial Bubble Models) have been around us since 1908 ...
(well, well: just with another brand names ...)
and, how long did it take for a dive computer to show up in a regular open water students manual?
So we want to expedite these things in the D-A-CH region
by producing faster "diveable knowledge"
and making diving even more funny and safer!

(*) NEDU = United States Navy Experimental Diving Unit, NMRI = Naval Medical Research Institute, UHMS = Undersea and Hyperbaric Medical Society

---

... well-known and seasoned things ...

an unusual literature list
embellished with my private, subjective opinion and, sometimes
with the important and interesting documents: the cover and the complete TOC
AND: support for all kind of scientific work in these domains

---

... and innovative methods!

when a member of our SubMarineConsulting-Group detects something new
we analyze it and check, if it could be transfered to a diving technique
we simulate everything beforehand with DIVE (and, should the situation arise:
we produce a new release for this task)
we check in various countries with Air, Nitrox and Trimix
sending the dive profiles of our computers to DAN
and document everything, as well with ultrasound-doppler measurements
thus we created things like our:
Ascent Pattern, procedures for optimized gas changes,
risc minimized decompression, and, as a little piece of cake, our:
decompression table for professional apneists
since ca. 2000 we offer a TEC-lite programme, which is something like a "recreational Trimix" course
and, as well, more or less unique for the german speaking (D-A-CH) TEC community:
our manual for the decompression workshop in the Tauchsportcenter Esslingen
we offer as well now deco software for free: DIVE Version 3
a list in time-wise order is there: RESEARCHGATE

---

About me:
I enjoy diving since 1976, and
I am a Diving Instructor since 1988
I am holding a couple of licenses from various training agencies, the most prominent beeing:
PADI, or, another one: SSI Technical Extended Range
I am specialised in:
Nitrox, Heliox and other Mixes
Rebreathers
Hard Hat (Helmet) diving
Dive Computers and Dive Tables, i.e.: Decompression Algorithms and Hyperbaric Medicine
because I work as a serious physicist in my side-job
Albi at his tedious world record of 36 hours underwater indoor cycling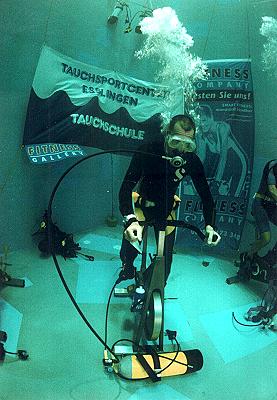 ---
Bottom line is: these pages are non-commercial and dedicated to the embetterment of diver education
in the fields of dive computers, dive tables, decompression diving and hyperbaric medicine.
i.e.: the physiology, the models, algorithms and implementations of decompression.
I must admit that the english version is only reduced in comparison to the german pages ...
Well, but you could have fun watching my UW pictures and the histories about dive computers ...
Due to my limited vocabulary and grammar I appreciate any comments on typing errors,
resp. if you find passages prone to misconceptions: just drop me an e-mail!

Since I opened the chapter "my little virtual DIVE COMPUTER" Museum, I was inundated with tons of mails, asking for help, explanation and manuals ... Thanks for the enthusiasm around these old machines ...

Sometimes I get e-mails, asking about the kryptic things at the top of the page: this one is very easy.
One reads "SHALOM", which is hebrew and means just "hi", the next one is the same in arabic
it reads "As Salamu a'leikum". Basically both mean as well "Peace": I would prefer peace
for this particular region, because here we find the nearest and best diving place, the RED SEA!
---
Acknowledgements, Credits, Copyrights etc
I would like to say "Thank you" to all these individuals, who supported me during a couple of projects, to name a few:
Computer & Dive Tables Specialty, Nitrox Manual, Rebreather Manual, Advanced Decompression workshop, Hardhat/Helmetdiving.

The support was enthusiastically and without any reservation! "Thank you" also to these organisations and companies who granted their copyrights!

As well a big THA for all the countless diving-students who have been a guinea pig during all of my courses/classes in the last 20 years and the divemasters/assistant instructors and instructor colleagues from the Tauchsportcenter Esslingen who proof-read my manuals, also for the tons of e-mails with ideas and feedback!

Most notably, I would like to appreciate:

Jeff Nadler:

then President DSAT, from whom I recieved, probably as one of the first guys in europe, the DSAT documentation

the late Dr. Max Hahn: ( ז ײ ל )(*)

who, a long time before the MicroBrain and later on the DC/NC 11 captured the market, gave me insight
into these boxes and their coefficients and NDLs, along with his DECO 2000 tables

Tobias Dräger:

then Productmanager Rebreather DRÄGER DIVE; oh yeah: and the good old DRAEGER deco table !!!

Yariv Yron:

NAUI Instructor #17579, ELAT: during my first NITROX Course at the famous AQUASPORT in Elat, Israel, in hebrew, beginning the 90's

Dave Dinsmore:

then director NOAA diving program (National Oceanic and Atmospheric Administration): sound input to the NOAA Manual Version 4

Chuck Young:

Master Diver H NSSC United States Navy (U.S.N): for his bright way to deal with the USN Diving Manual ...

Karl E. Huggins:

USC Catalina Hyperbaric Chamber: for his HUGI Table and nuts & bolts with it

Ron Nishi:

Senior Diving Scientist, then the DCIEM (Defence & Civil Institute of Environmental Medicine) Andy Anlauf: for his ideas and support during the development of our deco table for Apnea Diving C.E. 2004.

the PADI Course Directors:

in temporal order: Harald Teltschik (

ז ײ ל

)(*) , David Jackson, Ben Walzinger (

ז ײ ל

)(*) : for support, ideas and feedback ... In particular the late Ben, for his increasing and substantial interest in my PADI Specialty "DIVE TABLES"
and for his many tips and hints during my "Advanced Decompression Theory and Application" workshop in Phuket, C.E. 02/2006.

Steven M. Barsky ( ז ײ ל )(*) :

for ideas, support and excellent materials concerning hard hat diving, pls. cf.:
www.hammerheadpress.com (now obsolete)

and, first of all and most notably, my friend: Rainer Sommerkorn

who initiated me into the secrets of SCUBA diving and the USN deco table around the 70's at my precious Sinai beach between Elat and Ras Mohammad.
Since then I am more or less spoiled for the regular life above the waterline ...

(*):
( ז ײ ל ) May their memory be blessed!

Dipl. Phys. A.S., "ALBI"

PADI Instructor #33913, ...

SSI TXR Instructor #12653

Esslingen, Autumn 1999 C.E.

from: 10 / 2022 C.E.

(C.E.: Common Era)